Global Change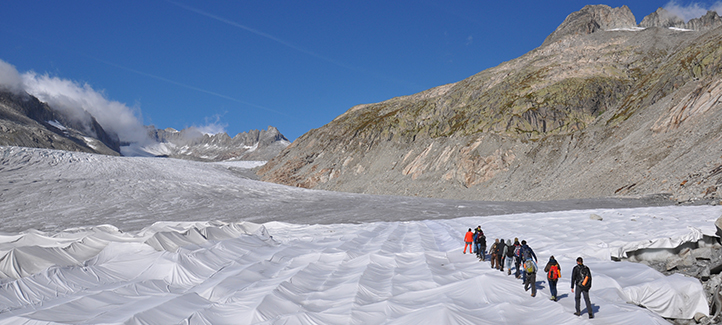 Global Change is one of the great challenges of our time and, as a complex-set of processes, includes both social and environmental dimensions. As such, Global Change can be subdivided into sub-areas of scientific inquiry, such as population development, biodiversity change, urbanization, climate change, landscape degradation, etc. - processes that are characterized by the exercise of power, the availability of capital, resource conflicts and critical human-environment conditions.
At the University of Freiburg's geography department, Global Change is understood as a comprehensive, integrative research topic that intersects physical and human geography. For this reason, our researchers study Global Change from a range of theoretical and methodological perspectives.
Our content focus is on climate change and its social contextualization, in particular with regard to climate change vulnerability and adaptation. These research topics are conceptualized as comprehensive socio-ecological processes that require a nuanced understanding of scale-sensitive, transdisciplinary human-environment research, including regional studies. Geography researchers at Freiburg explore the social dimensions and political negotiation processes related to global change in the context of other global trends, such as urbanization, demographic change, social inequality and economic and geopolitical transformations.
Research Interests related to Global Change
---
Municipal Transformative Communities for Local Economies Beyond Growth (MUTUAL)

Start/End of Project

01.01.2024 until 31.12.2026

Description

MUTUAL investigates the potential of progressive trans-institutional alliances to foster growth-independent development pathways at the municipal scale. The project builds on empirical and theoretical insights on the ambivalence of economic growth as principal socio-economic orientation in the Global North: while growth plays a key role with respect to the relative short-term stability of current provisioning systems, its negative effects on ecological integrity and bad performance with respect to social equality increasingly come to the fore. To date, however, post-growth scholars focus overwhelmingly on organizations and small groups or on large-scale institutional restructuring, predominantly aimed at national and supra-national scales. Against this background, MUTUAL explores in what ways the cooperation of progressive formal-institutional and non-institutional actors at the municipal scale can lead to institutional innovations that alleviate growth pressures and facilitate further pro-environmental and -social action. Through four specific case studies, MUTUAL traces how such 'municipal transformative communities' establish synergistic dynamics between framework conditions and alternative economic practices to decrease the dependency of individuals, organizations, and institutions on market competition, monetary profitability, and financial resources. MUTUAL, thus, counteracts the lack of city-centered perspectives in, and the general spatial blindness of post-growth research as well as the neglect of growth dynamics in large parts of municipalist and urban transformations literature. Learning from and with municipal transformative communities, MUTUAL, finally, aims to identify expedient post-growth-oriented development pathways and broker these insights to a selected partner community.

Contact Person

Dr. Benedikt Schmid
Phone: ++49(0)761 203-3566
Email: benedikt.schmid@geographie.uni-freiburg.de

Clim`Ability Care – Transformation of business parks and industrial clusters in view of climate change: towards a new transnational corporate culture in the Upper Rhine Region

Start/End of Project

01.05.2023 until 30.04.2026

Description

The Upper Rhine region is particularly affected by the impacts of climate change. Heat waves and droughts, sultriness, tropical nights, but also floods and storms as well as poor air quality have an impact on people and the environment and especially also on small and medium-sized enterprises as well as the involved actors in their daily work. In the transnational research project Clim'Ability Care, several research institutions are working on how to deal with the challenges of climate change. Here it is possible to build on the findings of the previous projects Clim'Ability and Clim'Ability Design. In the new project phase Clim'Ability Care, the focus is on promoting and deriving a new climate-resilient corporate culture. The central question here is how to integrate the dimensions of warning, mitigation, adaptation and care. The specific objectives are to: (1) Selecting sites that are particularly sensitive to climate change due to their climatic and socioeconomic makeup (2) Updating and expanding the toolbox "Clim'Ability", in which climatic stressors and the resulting affectedness, but also adaptation strategies are available online (3) Promotion of a new corporate culture throughout the Upper Rhine region through "learning situations" (4) Institutionalization through the creation of a new cross-border corporate and risk culture (5) Communication, dissemination and visibility of the project The collaboration between regional universities, public institutions and SMEs promotes synergies between different local, disciplinary and economic cultures. In parallel, the project explores the institutional and economic models and concepts with regard to the sustainability of territorial climate services in the Southern Upper Rhine region.

Deciphering the fluvio-social metabolism of the Upper Rhine area (DEMUR) - Factors and actors in the transformation towards a fluvial anthroposphere prior to the industrial period

Project Manager

Blöthe J, Glaser R, Preusser F, Schenk G

Start/End of Project

01.04.2023 until 31.03.2026

Description

Human influence has long interfered with natural floodplain evolution. While the indirect effects of deforestation on sediment transport and floodplain dynamics have been extensively researched, the socio-ecological processes and feedback mechanisms that determine how fluvial systems evolve along trajectories and path dependencies have only recently entered the scientific debate. We use the concept of a fluvio-social metabolism to illustrate these complex interdependencies between anthropogenic and natural processes that define how natural river systems transitioned into a fluvial anthroposphere. The aim of the project is to decipher the fluvio-social metabolism along path-dependencies and trajectories and to understand system dynamics of the fluvial anthroposphere in the Upper Rhine area. We focus on three specific aspects and their mutual interdependencies: socio-political systems, climate dynamics, and legacy sediments, integrating social and environmental archives as well as detailed laboratory and geostatistical analysis. By combining quantitative, semi-quantitative and qualitative methods we combine social and natural sciences. We seek to determine integrating indicators for the transition from natural floodplains to a fluvial anthroposphere on multiple spatio-temporal scales. Our research analyses the period from medieval times until the onset of the industrial revolution in the region around 1850 with focus on suspected transition periods. We hypothesise that in this fluvio-social system, specific socio-natural and political constellations, including territorial shifts, economical exploitation, institutions, conflicts, climatic variability and extremes, as well as riverine floods, determined path dependencies and trajectories of fluvial landscape evolution that found their expression in the floodplain record as legacy sediments. We follow a multidisciplinary approach that integrates the expertise from different disciplines, combining historic, climatic, and geomorphologic expertise. In three interlinking work packages, we investigate how 1) actors, socio-political constellations and institutions influenced floodplain development, 2) regional climate variability and extreme events impacted socio-ecological processes, and 3) natural and societal dynamics found their expression in the floodplain sedimentary record. Synthesising these various strands of social, climatic and geomorphologic results, we ultimately aim to integrate our insights into deciphering the fluvio-social metabolism. Finally, we evaluate to which degree our results can contribute to model this dynamic fluvio-social metabolism empirically, numerically and multivariate-statistically.

Contact Person

Blöthe J
Phone: 203-9224
Email: jan.bloethe@geographie.uni-freiburg.de

I4C – Intelligence for Cities

Project Manager

Fünfgeld H

Start/End of Project

01.01.2021 until 31.12.2023

Description

In I4C, digital-ecological innovations in the form of artificial intelligence (AI) based methods are developed and used to help adapt cities to challenges of climate change. A process chain from data acquisition to analysis and environmental prediction to concrete adaptation measures is being tested. The project is accompanied by systematically considering ethics implications and the reciprocal transfer of knowledge among different actors as part of dealing with AI at city level . The project is geographically anchored in the Freiburg region. Its results will be demonstrated using the Green City Freiburg as an case study. Today, over 75% of the German population lives in cities. Cities are sensitive hubs of social and cultural life and commerce. Extreme weather events, such as floods, heat waves or storm events, which will occur more frequently due to climate change, are increasingly challenging for cities. Adapting to changing conditions is essential for the long-term protection of our population and economic viability. Digital-ecological innovations have the potential make a significant contribution towards building capacity for climate change adaptation. Due to the complexity of urban systems, AI methods play a special role. Through AI, complex calculations such as short-term and locally specific forecasts of extreme events, long-term projections of risks, or intelligent real-time control mechanisms can be implemented more efficiently and reliably. I4C addresses these challenges. An AI-supported process chain is being developed that will ultimately deliver measures to improve the adaptability of cities to extreme events. Meteorological process models and climate simulations are used to identify areas in cities that are vulnerable to heat, flooding and storm. The stress situations and associated impacts are simulated, quantified and visualized in a semantic 3D model at the spatial resolution of individual buildings. On the basis of the simulations, experts are able to propose concrete measures that can be systematically applied in politics, law and planning and the effects of which can be evaluated. Control elements, e.g. for building automation, are also derived. The process chain will be tested using the city of Freiburg as an example. For the realization of I4C, an interdisciplinary team from the Albert-Ludwigs-University Freiburg and from Fraunhofer institutes in the fields of computer science, engineering, meteorology, hydrology, economics, politics, law and social sciences is joining forces with companies from the region in the field of mobile mapping, sensor manufacturing, urban planning, energy supply and consulting, public authorities as well as the Green City Freiburg. The Chair group of Geography of Global Change is involved in two sub-projects of I4C: Within the framework of a work package, ethical dimensions of AI-based modelling and prediction methods are identified and discussed in I4C. In a series of workshops and discussion forums on ethical issues, actors involved in the project will be sensitized to emerging ethical implications of the AI-based procedures developed in the project. As part of a further work package, the possibilities and limits of integrating AI-based approaches into municipal climate change adaptation processes will be examined from an institutional and planning perspective and, in cooperation with the city of Freiburg, reviewed in terms of their practical relevance and feasibility.

Contact Person

Fünfgeld H
Phone: +49(0)761 203-3560
Email: hartmut.fuenfgeld@geographie.uni-freiburg.de

Financing

BMU - KI-Leuchttürme für Umwelt, Klima, Natur und Ressourcen

Geographies of resettlement in the context of multi-scale global environmental change and degradation processes – a case study of coastal resettlement in the Volta River Delta in Ghana

Project Manager

Fünfgeld H, , Neu F (Team)

Start/End of Project

01.12.2019 until 31.08.2023

Description

During the last five decades, state-led resettlement has accompanied many construction projects of dams – especially in the Global South – and has been framed as a side effect that needs to be accepted in order to foster development (see Rogers/Wilmsen 2019). However, resettlement is nowadays increasingly taking place in response to extreme weather events that become more frequent and intense, also due to climate change (see e.g. Arnall 2014). On a global level, low-lying coastal regions which often have a high population density and are threatened by flooding and coastal erosion due to global sea level rise are particularly vulnerable. For instance, in some areas of the Volta River Delta in southeast Ghana, the coastline has been shifted inland by up to three kilometers, an incremental process that was triggered by a combination of rising sea levels and sediments of the Volta River being retained by the Akosombo Dam. As a result, entire villages literally were swallowed by the erosion processes of the Atlantic Ocean. For this reason, from 2017 onwards, state institutions set up a resettlement village for several hundreds of affected households on a piece of reclaimed land in the lagoon of Keta, east of the mouth of the Volta River. Unsatisfyingly, resettlement so far has been scientifically examined mostly in the context of dam projects and not so much against the background of climate change. In addition, those studies often aimed at optimizing the resettlement process without questioning resettlement and the logics behind in the first place. Thence, Rogers and Wilmsen (2019) called for a critical geography of resettlement, i.e. studies in the field of geography that critically and profoundly examine resettlement projects. The research project will make a contribution to this new field of research and therefore analyzes the Ghanaian example described above as part of a case study. Abstracted from the case study, it deals with geographies of resettlement in the context of multi-scale processes of environmental change and degradation, which are examined from the standpoint of political ecology. The corresponding analytical framework is based on theories of power (e.g. Foucault), violence (e.g. Watts, Nixon) and justice (e.g. Rawls, Sen). The research project focuses on three key elements within the resettlement processes: actors, power and interests. Buildung on this, three research questions are pursued: 1) How did different actors use their respective power to shape the resettlement process in a way that serves their own or others' interests? 2) How was resettlement legitimized and by whom? 3) Which social, political and economic effects on resettled people can be identified and to what extent can they be linked to certain resettlement practices applied? As part of the research project, several phases of field research are be necessary to collect primary data in the Volta River Delta. The methodological toolbox used during these stages contains qualitative and ethnographic research methods of geography.

Contact Person

Friedrich Neu
Phone: +49(0)761 203-54233
Email: friedrich.neu@geographie.uni-freiburg.de

Financing

- Kurzstipendium für Doktorand*innen des Deutschen Akademischen Austauschdienstes (DAAD) zur Finanzierung der Feldforschung 2020 (nicht in Anspruch genommen wegen Reisebeschränkungen nach Ghana aufgrund von Covid-19), - Promotionsstipendium des Evangelischen Studienwerks Villigst, finanziert aus Mitteln des Bundesministeriums für Bildung und Forschung (BMBF), inkl. Förderung von Feldforschung (seit August 2020)

Geomorphic and hydrologic implications of permafrost degradation in the Alps (GeoHype)

Project Manager

Blöthe J, Kraushaar S

Start/End of Project

01.06.2018 until 01.06.2024

Description

High-mountain environments are highly sensitive towards a warming climate, which is dramatically reflected by the shrinkage of alpine glaciers. With more and more glaciers disappearing, attention has moved towards the hydrological importance of ice stored in the periglacial environment, projected to exceed glacier ice volume in the European Alps by the mid-21st century. However, surprisingly little is known about the current state of the ice stored in the periglacial zones of alpine landscapes. Our project aims to disentangle the contribution of active layer and permafrost body to the summer runoff from the upper Kaiserberg catchment in the Austrian Alps. To achieve this goal, we combine repeated electrical resistivity tomography (ERT) surveys on the Kaiserberg rock glacier with continuous discharge measurements from two hydrological stations that we installed in the basin. We further collect water samples over the course of the summer that are analysed for δ18O and δ2H isotopes and the radio nuclide 129I , that allow us to differentiate thawing permafrost from active-layer or precipitation derived discharge.

Financing

Dr. Hohmann Förderung der Gesellschaft für Erdkunde zu Köln; Hanna Bremer Stiftung

Suspended sediment transport in German lowland rivers (in cooperation with BFG)

Project Manager

Hoffmann Th, Blöthe J

Start/End of Project

since 01.10.2017 (unlimited)

Description

Suspended sediment load dominates the sediment export from most lowland rivers around the world, also constituting a significant transport medium for pollutants and contaminants. This has important implications for the management of river systems that aims at achieving a good ecological and chemical status, as required for instance by the European Water Frame directive. A thorough understanding of the sources, transport mechanisms and sinks of suspended sediment is therefore a crucial prerequisite for successful management. However, sources and sinks of suspended sediment and the resulting concentration in the river water are highly variable throughout the year and in between years. In this project, we are interested in the spatiotemporal variability of suspended sediment transport in major German lowland rivers. In a first publication, we find that distinct breaks in the scaling relationship between suspended sediment concentration and discharge are induced by the organic matter concentration

Contact Person

Hoffmann Th

Publications

Journal Articles

Hoffmann T O, Baulig Y, Fischer H, Blöthe J H: Scale-breaks of suspended sediment rating in large rivers in Germany induced by organic matter Earth Surface Dynamics, 2020; 8: 661-678: https://doi.org/10.5194/esurf-2020-3